Made By Sport #ClubsInCrisis Fund – Applications open Monday 12 April 
Suffolk Community Foundation is delighted to be working together with Community Foundations across the UK to deliver the Made By Sport National Programme, offering local sports clubs and community organisations who support young people, the opportunity to apply for an unrestricted grant of £2,021 which can help groups recover from the effects of the latest lockdown.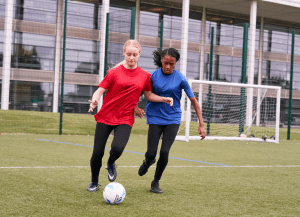 The coronavirus pandemic has had a significant impact on young people across the UK, and thanks to Made By Sport, we can offer this chance for sports clubs and community organisations to access vital funding which can help them to continue bringing sport into young people's lives.
Made By Sport is a charity which raises awareness of the power of sport and funding for organisations that use sport to support young people across the UK. The Clubs In Crisis Fund is part of a wider campaign that believes sport is the best vehicle for creating societal change for young people across a myriad of challenges they face in the modern world.
Clubs in Crisis Fund Criteria
Suffolk Community Foundation will be administering the Fund on behalf of Made By Sport and awarding unrestricted grants of up to £2,021 to clubs and groups who match the criteria. The Fund is looking for applications from clubs and community organisations using sport to improve young people's lives through one or more of the following means:
Developing life skills
Building strong communities
Improving mental health
Developing employability skills
Reducing crime and anti-social behaviour
Please note, the Fund will open for applications on Monday 12th April and full eligibility criteria will be published soon.
Note to applicants: Made By Sport is offering this opportunity thanks to support from the Cash4Clubs scheme which is funded by Flutter Entertainment Ltd. The donation made by Flutter is the amount it received in business rates relief from March 2020 to March 2021 for its betting shops in England. All applicants should consider this before applying for funding.