Ladies from the Lighthouse Women's Aid in Ipswich supported by The Port Community Fund

The wellbeing of Suffolk's local communities is in all of our hands. Joining one of Suffolk's 'Giving Circles' allows you to help those most in need through Collective Giving.
The notion of giving a regular sum of money every month by direct debit to your favourite charity is nothing new.
Our largest national and international charities are likely to feature on many of our monthly bank statements.
However, if you want to give regularly to help numerous charities and good causes within Suffolk, you can join a local 'Giving Circle' or create one of your own that will improve the lives of many closer to home.
We manage three collective giving schemes; the Port Community Fund, based in Felixstowe, the Women & Girls Fund and the Suffolk 100 where like-minded individuals contribute on a regular basis and enjoy the experience of making a difference together.
Each has a different history and a different focus,  but the aim is to help those who need it most and who live on our doorstep.
The Port Community Fund, set up in 2008, helps charities in Felixstowe and the Ipswich areas and is the oldest of the three.
Currently there are nine equal members, Coscon, Pentalver, MCP, Grange Shipping, Freightliner, Harwich Haven Authority, Trinity College and the Port of Felixstowe, but 15 other companies have also contributed over the years.
Paul Davey, Head of Corporate Affairs for Port of Felixstowe said they each make an annual donation to the Port Community Fund in addition to fundraising throughout the year. "Since it was established the fund has raised over £460,000, of which over half has been spent on good causes in Felixstowe and as far as Ipswich."
The rest has been put into endowment so that the fund can continue helping local charities into the future. The fund has already made grants to groups as diverse as Lighthouse Women's Aid, East Anglian Sailing Trust, Bucklesham and Foxhall Village Hall and Felixstowe Area Community Transport.
East Suffolk Association for the Blind has also benefitted and secretary Jane Fox says that grants made a huge difference to them. The organisation has 200 members which meet socially and grants have paid for transport and contributed towards everyday aids that make a difference, like talking clocks. More unusually it has also helped them branch out into something different – running regular shooting sessions at Walton Rifle Club with the help of special sound tutors.
"It's particularly popular," said Jane, "with the younger members, not only providing a social outlet but allowing them to enter competitions with Blind Veterans UK."
Another giving circle, the Women & Girls Fund for Suffolk, was set up by Dominique Fell-Clark and Kate Earle six years ago and does what it says on the tin. It aims, says Dominque, to help issues that particularly affect women and girls like domestic violence, bullying, cyber bullying, sexual abuse of children and also supports young women, single mothers, teenagers and girls to fulfill their potential.
"Through the foundation the women's giving circle has given grants to Suffolk Refugee Support, Level Two Youth Project, Bury St Edmund's Women's Aid, Red Rose Chain and Suffolk Young People's Health Project."
Dominque explained that currently there over 30 people who contribute £500 a year for three years but the long-term aim is to have 100 in the circle.
Ladies from the Suffolk Befriending Scheme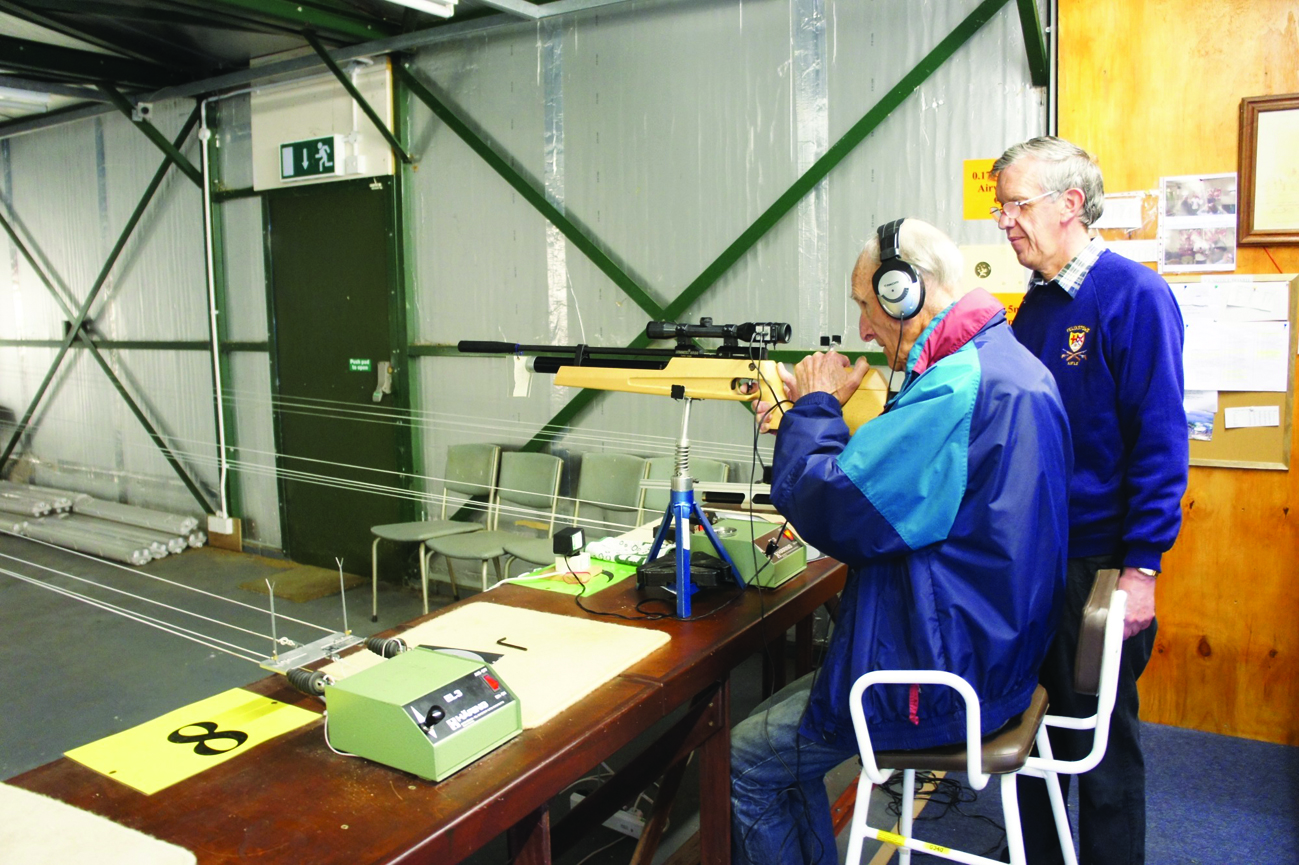 Shooting session at Walton Rifle Club

We also have a collective giving group – the Suffolk 100.
Judy Dow, our Head of Philanthropy said "We are trying to build up to 100 people and are now almost there."
"The power of collective giving through Suffolk 100 has helped us build a sustainable income for our Suffolk Giving Fund which supports the most pressing needs in the county." It's members, he said, are from all walks of life but they all have dedicated themselves to giving £1,000 each year for three years.
Charles Rowett, CEO of Gotelee Solicitors explained, "As a law firm firmly committed to serving the local Ipswich and Suffolk community, Gotelee is delighted to join forces with Suffolk Community Foundation. We often deal with the vulnerable in society and being able to contribute to the work of the Foundation via the Suffolk 100 Club clearly complements that effort."
Meanwhile another member, Andrew Wheeler, from Brewin Dolphin in Ipswich said, "I support the Suffolk 100 because I feel that the Foundation has enormous experience in the charitable sector and allows me access to smaller, local charities which desperately need support, but would otherwise struggle to promote themselves widely."
Our Head of Public Affairs Tim Holder says we would welcome initiatives from any groups who might want to create a giving circle. "There may be people who work in a particular industry, say food and drink or financial services who want to target money towards charities that help a particular cause. Or maybe there might be a group who want to target a particular town or geographical area that could give together."
We don't want to stop people from making donations to an individual charity, but if you want to commit to giving in a sustained way with other like-minded people this is great way for anyone from any walk of life to create a network and build a team of collaborative philanthropists.
I support the Suffolk 100 because I feel that the Foundation has enormous experience in the charitable sector and allows me access to smaller, local charities which desperately need support, but would otherwise struggle to promote themselves widely.