Combat2Coffee – Case Study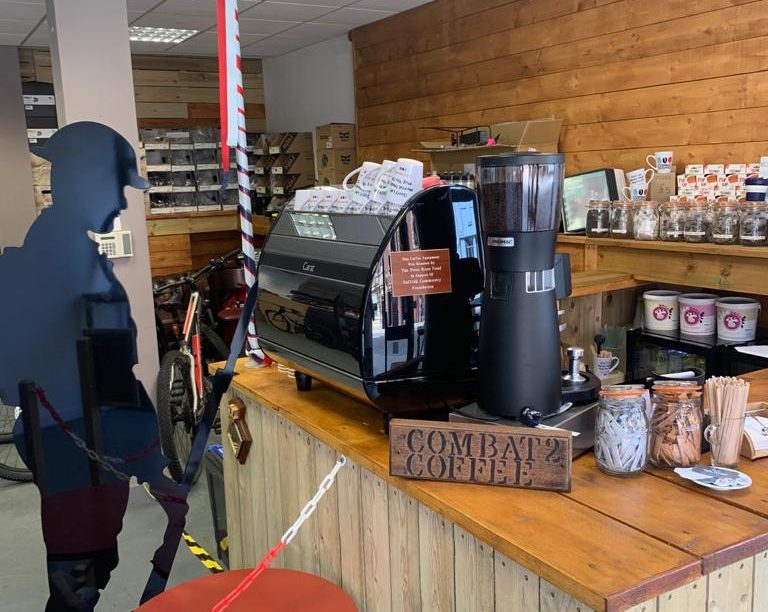 Combat2Coffee was formed as a support outlet for Armed Forces Veterans and their families who are trying to find their feet with life outside of service. It was an idea created and founded by ex-serviceman, Nigel Seaman who after serving with the Army for 12 years began suffering from depression, anxiety and flashbacks from an incident experienced during his time on operations.
Recent funding from the Men's Mental Health fund has helped to support Combat2Coffee with costs for a new Wellbeing Hub in the Spokeworx bike shop in Ipswich for armed forces and uniformed services veterans. The Hub helps them to address mental health issues, improve their wellbeing, and offer them the opportunity to develop their skills and increase their chances of employment through barista skills training (NVQ Level 2 Barista qualification). Veterans will also be referred to other agencies for support where appropriate.
This charity also aims to provide purposeful outreach and rehabilitation for service veterans in custody, under a rehabilitation order or in the community: to provide courses for recovering veterans training them in a new skill and helping them to find work placements; and to offer a support network for veterans and their families.
The Police and Crime Commissioner's Fund has also recently supported Combat2Coffee with a grant which will go towards funding a project supporting the training and reintegration of ex-offenders/armed forces veterans who are also ex-offenders back into society. The Coffee Cell Café has been set up following the success of the Wellbeing Hub in Ipswich and the Lansbury Coffee Shop project. Ex-offenders who have been trained while at Hollesley Bay will be able to gain more valuable experience working in this new cafe, when on release on temporary license in the community.
"The funding we have received from Suffolk Community Foundation has been transformational for Combat2Coffee at this challenging time. What we have received has allowed us to support a diverse group of people using coffee as a vehicle with their mental health. Thanks to Nicki and Andrea for supporting us. Combat2coffee looks forward to the continued partnership working in the future"