Porch Project
Supporting young people's physical, mental, social and educational well-being
It's Friday night and for a casual passer by it might seem something out of the ordinary to walk past a Suffolk church and see scores of young people waiting around in the churchyard.
Draw closer and as you walk inside you'd witness something even more extraordinary – a church full of teenagers, loud pop music, vast TV screens broadcasting films, video and computer games.
Elsewhere are young people playing table football, pool and there's even a group of girls being creative with nail art.
Porch Project, St Andrew's Church, Great Cornard
It's a sight that would certainly have raised more than a few eyebrows of the founders who built this historic place of worship but the Porch Project Cornard has actually done wonders for the local community making it a better and safer place.
The Project Leader explained "Last week there were more than 100 young people here and it looks like numbers will be even higher tonight."
"The crime in our area – offences like criminal damage etc – has been very high for a long time so it was decided that we'd launch the Porch Project here. The results have been remarkable – already there's been a significant reduction in crime."
The problem has been that there's been nowhere for young people to go but the Porch Project has really given them something to look forward to.
"I work with student services at local schools and we publicise the project through there. During the week I work with a lot of young people who have behaviour problems but because they want to attend the Porch Project their behaviour seems to have got better."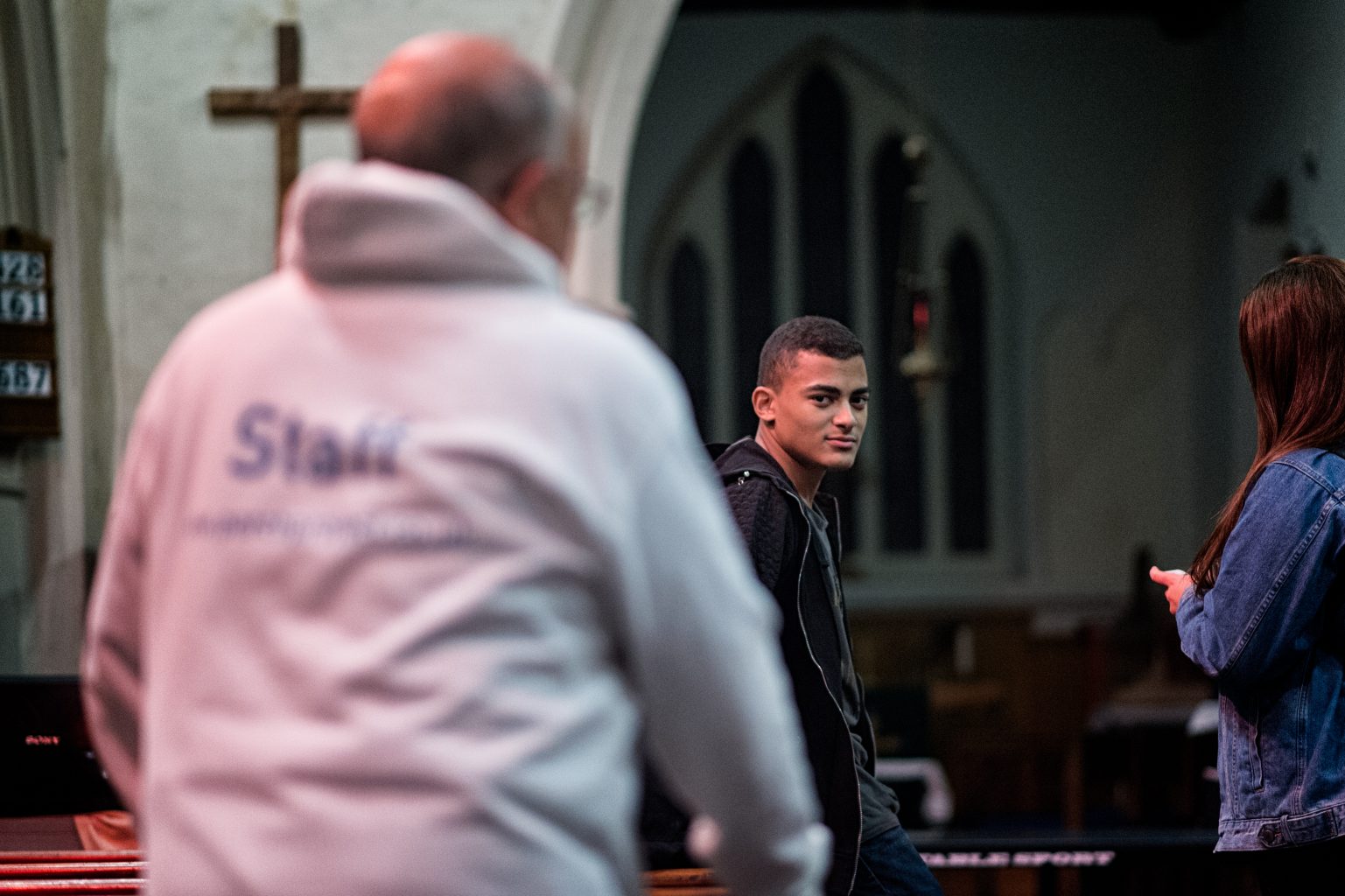 Porch Project volunteer at St Andrew's Church
Young lady painting nail at Porch Project
With this funding Porch Project aims to reduce crime by 10 per cent – but they have exceeded that. The evening is free and the only thing that's required is that the young people should sign in and out. They have a team of 30 volunteers who work on a rota to help out, many of whom are members of the congregation. They regularly donate home baked cakes, bread, pizza etc so there's also free food available during the evening.
So why is it so popular?
Joanne, 16, who attends a local academy says, "I have been here three times now – people from school told me about it and it gives us an opportunity to meet with our friends in the evening. There are loads of things to do and you don't have to pay for it either."
Cade Huckle, a student at Colchester Institute who lives in Great Cornard said he has been attending the evening sessions for about seven months and actually started off as a team member.
"It's just a fun thing to do. Before on the streets there was nowhere to go and there could be trouble."
"People would hang around in big groups, someone would take offence at something and you never knew what would happen.""But here there's a place to go and it's safe and everyone can come together. You can listen to music, be calm, talk to your friends and enjoy yourself."
Porch Project volunteer working with the youth of Great Cornard

Girls on their phones at Porch Project

We've worked in partnership with Suffolk Community Foundation to create the Suffolk Police & Crime Commissioner's Fund. The fund has awarded several grants to the Porch Project, including an initial £20,000 to get the project off the ground.