Transforming the lives of people of all abilities through taking part in engaging and inspirational creative activities.
Whether it's rap or rock, pop or punk, techno or electronic, young people's love of music has a way of helping them find their "voice".
There's a long tradition in the pop industry of teenagers on the fringe using their music to explore their creativity.
In doing so they have invented new genres, become poets and social commentators and, for some, it's even resulted in stardom and riches.
But playing in a band does much more – it teaches valuable life skills about teamwork, hard work, it builds confidence and expands horizons in more ways than one.
Suffolk Community Foundation were proud to support Suffolk Artlink's 'Rock Up' project in Lowestoft, working with young people to teach them life skills and build confidence through the power of music.
Suffolk Artlink's 'Rock Up' modern music sessions at Colville House Youth Club in Lowestoft, has stimulated remarkable change in the lives of the young people who attend.
Aimed at anyone aged 12-18 living in the Kirkley and Whitton areas of Lowestoft, which are among the most deprived wards in the entire UK.
Project Officer, Candida Wingate says the project has been very successful, "Not only has 'Rock Up' given the young people the chance to learn musical skills, but they have also gained social and personal skills as well."
Seven of the young people created a band, 'Coolville' and played at the Amplifier Gig at Halesworth Cut.
A further nine young people made DJ mixes and their work has been posted to Mixcloud.
"We have a core group of ten who come each week but sometimes we get up to 20. It's taken a long time but it's wonderful to see how they have grown in confidence."
It's been such a success that  'Rock Up' has introduced Arts Awards, designed to help creativity and leadership, and qualifications recognised by the music industry.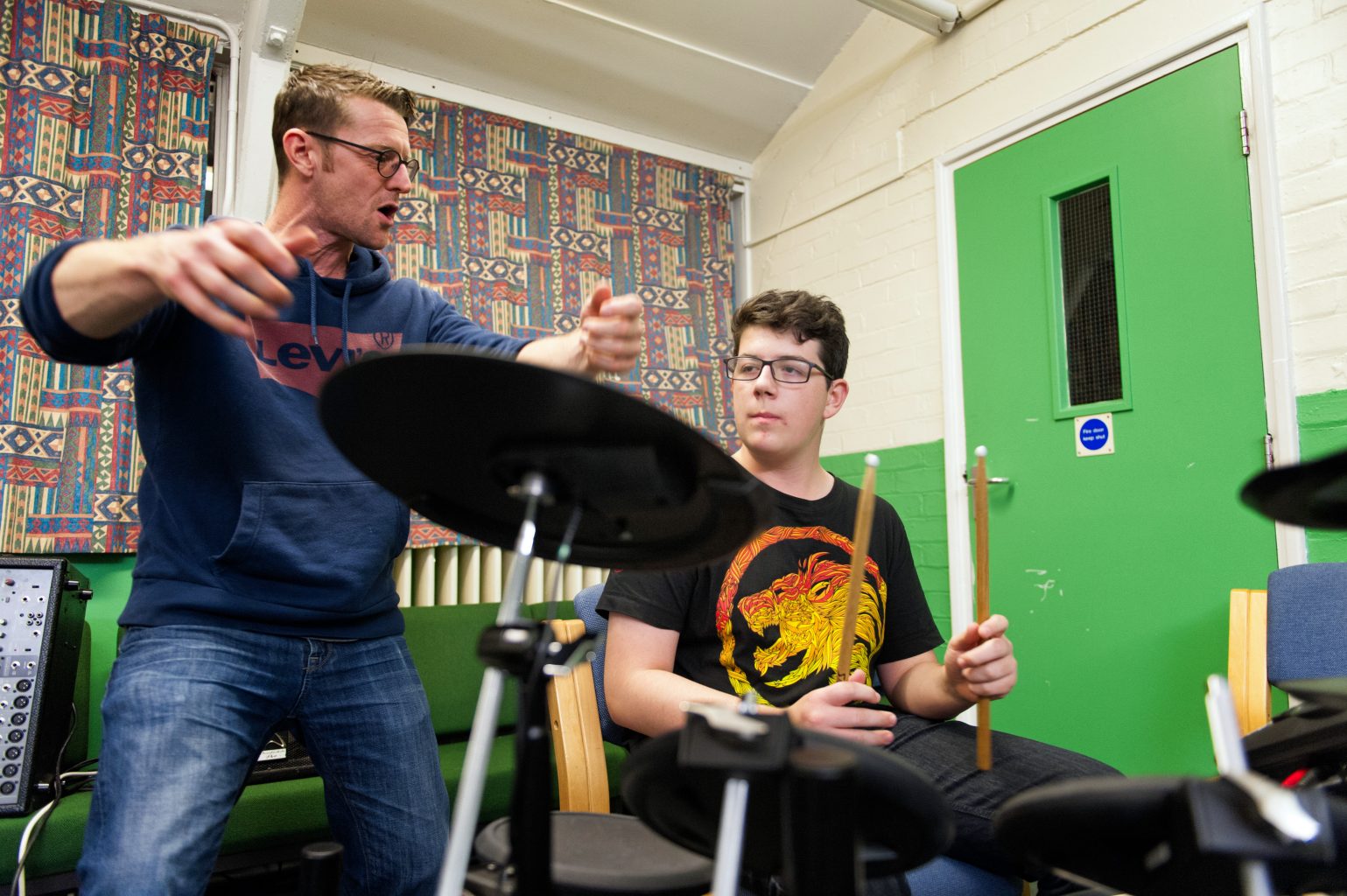 A young rocker playing the drums at Suffolk Artlink's 'Rock Up' project in Lowestoft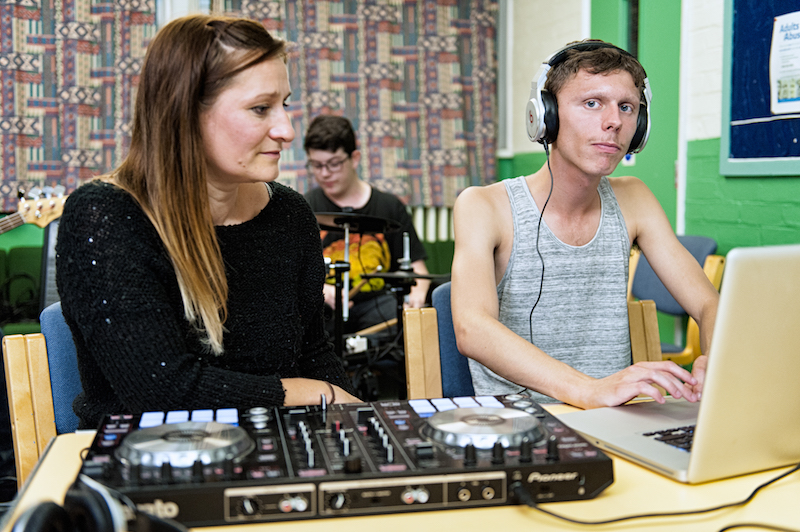 18-year-old Jack working on his electronic music
Candida explained that the sessions are run by professional musicians Bryan Hall, Matt Shepherd and Sophie Tott who all have national/ international playing expertise.
During the weekly sessions each young person works in a group but also has an individual lesson with options in drums, guitar, keyboard, vocals, songwriting or on the decks. In addition there are on-line tutorials for all the students so they can practice their skills at home during the week.
Karen Booth, Youth Worker/Director of Colville House says the 'Rock Up' sessions, held in addition to the main youth club, have helped attract young people who might not otherwise have come along.
According to 18-year-old Marianna, Suffolk Artlink's music sessions have become a highlight of her week.
"This is the third year I have attended and it's brilliant as I get to play music, learn guitar and vocals – it's something I really like and something I don't get to do at home. I'm now at college doing a childcare qualification – I would have loved to have done a music course but I can't read music so they wouldn't let me in.This has allowed me to keep learning, I took part in the gig at Halesworth and I have even written song lyrics too".
18-year-old Marianna playing guitar
Drumming session at Suffolk Artlink
Moving forward, Marianna along with James, another musician from the group, took the next step and performed at an Open Mic night in Lowestoft.
James, 18, says these sessions have helped him tremendously as well – he's learnt guitar, played with the band and says it also helps him deal with stress.
"I never thought I would be able to play with the band at our gig and ten minutes before I was struck with nerves. I did it though and enjoyed it so much I would do it over and over again".
Meanwhile, 18-year-old Jack has used the sessions to develop his own electronic music and says it's also helped him integrate with a wider group of young people at the youth club.
He's been producing his own music since he was 15 and on one occasion has played for Radio 1 Academy.
18-year-old James working on his guitar playing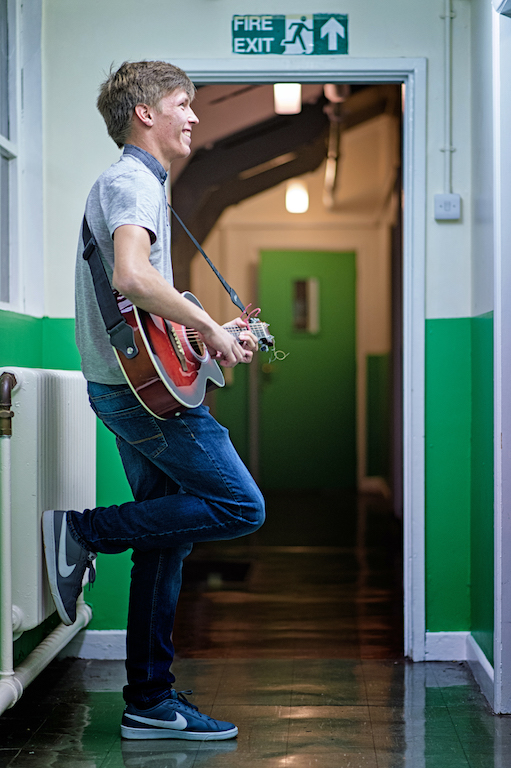 18-year-old James planning to perform at an Open Mic night in Lowestoft
Funding for the whole project has come from a variety of sources, principally Youth Music. In addition Suffolk Community Foundation has helped with matched funding from various sources, including the De la Rue Family Fund.
Suffolk Community Foundation's Arts and Culture Fund also hopes to support other projects that help people of all ages to discover a talent, learn a new skill and explore the challenges they face through creativity.
The fund was originally created by my daughter May through a sponsored walk. She is particularly interested in music and supporting young people with challenges or disability who are finding help through this art form. When Suffolk Community Foundation suggested they might like to help fund 'Rock Up' it seemed a perfect fit.