It's been a record breaking year again for Suffolk's Surviving Winter Appeal, which so far this year has already hit the £125,000 fundraising mark with almost £80,000 already distributed to warm over 600 homes right across the county.
Suffolk Community Foundation's Head of Public Affairs Tim Holder says 'with a few more weeks of winter left, this would not have been possible without the kindness of the residents of Suffolk. The £30,000 match fund provided by Hopkins Homes has made a huge difference too, allowing us to reach more homes and individuals than ever before.'
It is anticipated that, by the end of this year's appeal as many as 800 homes will have been reached, more than ever before, but it doesn't stop there.
Esme, Jean and Stella at the Greyhound Ipswich's MeetUpMondays
Citizen's Advice take all the requests for help, but whilst they are talking about heating, they also provide general financial advice and ask questions about living conditions, and physical and mental health. 321 people have already been referred on for other types of support, with 163 raising issues about isolation and loneliness. That's where Surviving Winter Appeal partner – MeetUpMondays – comes in.
The concept is simple yet effective. Every Monday morning, pubs, cafes and tearooms across Suffolk offer a couple of hours of free tea, coffee and cake, and those that are isolated or have little human contact are encouraged to come along and meet new people in a relaxed environment.
Some of the Suffolk Community Foundation team, along with Josh Hopkins from Hopkins Homes – recently headed to the Greyhound in Ipswich to experience one of the MeetUpMondays projects first hand.
Josh Hopkins, of Hopkins Homes visits the Greyhound Ipswich's MeetUpMondays project
Ann Osborn, Director of Rural Coffee Caravan and MeetUpMondays says, 'We're so thrilled that the MeetUpMondays project has become part of the Surviving Winter team this year. Isolation can have a very negative effect on a person's physical and mental health in the winter particularly, but all year round too.'
'Keeping people warm in their own homes is vitally important, but so is making sure they stay connected to the rest of the world too. Loneliness is a real issue, which is why Hopkins Homes is proud to support such a great initiative that aims to combat this problem within the local community,' says Josh Hopkins. 'We had such a warm welcome from everyone who attended MeetUpMonday at The Greyhound.'
A friendly regular who takes her role of 'Official Greeter' very seriously, Beryl knows all too well the struggles and issues faced by those that are isolated.
'Just having that human contact can be so beneficial. One lady who comes along had been housebound for some time, and after an operation, she was so used to being home alone the thought of going out actually became quite scary. Eventually she reached out to us, and I've seen her blossom by the week', explains Beryl.
Josh Hopkins with regulars of the Greyhound's MeetUpMondays
The visit uncovered all sorts of reasons for attending, from bereavement and having a break from being a carer for somebody else, to just simply losing touch with world a bit after retirement and needing a confidence boost. Everyone has their own reason for being there and all were very forthcoming about how much they love it. 
The team at The Greyhound enjoy being a part of it all just as much. While refreshments are free at these events, visitors to the group feel so welcome, they often return with their families and friends at other times of the week.
Dan Lightfoot, Landlord of the Greyhound explains, 'the whole team at the Greyhound really look forward to MeetUpMonday sessions, and actually compete to do that shift! It's a pleasure to have everybody here, and you can feel how much it means to people to have a place to come and chat. I've agreed to become an ambassador for the project, to support other people like myself who might be considering doing this in their pub or cafe.'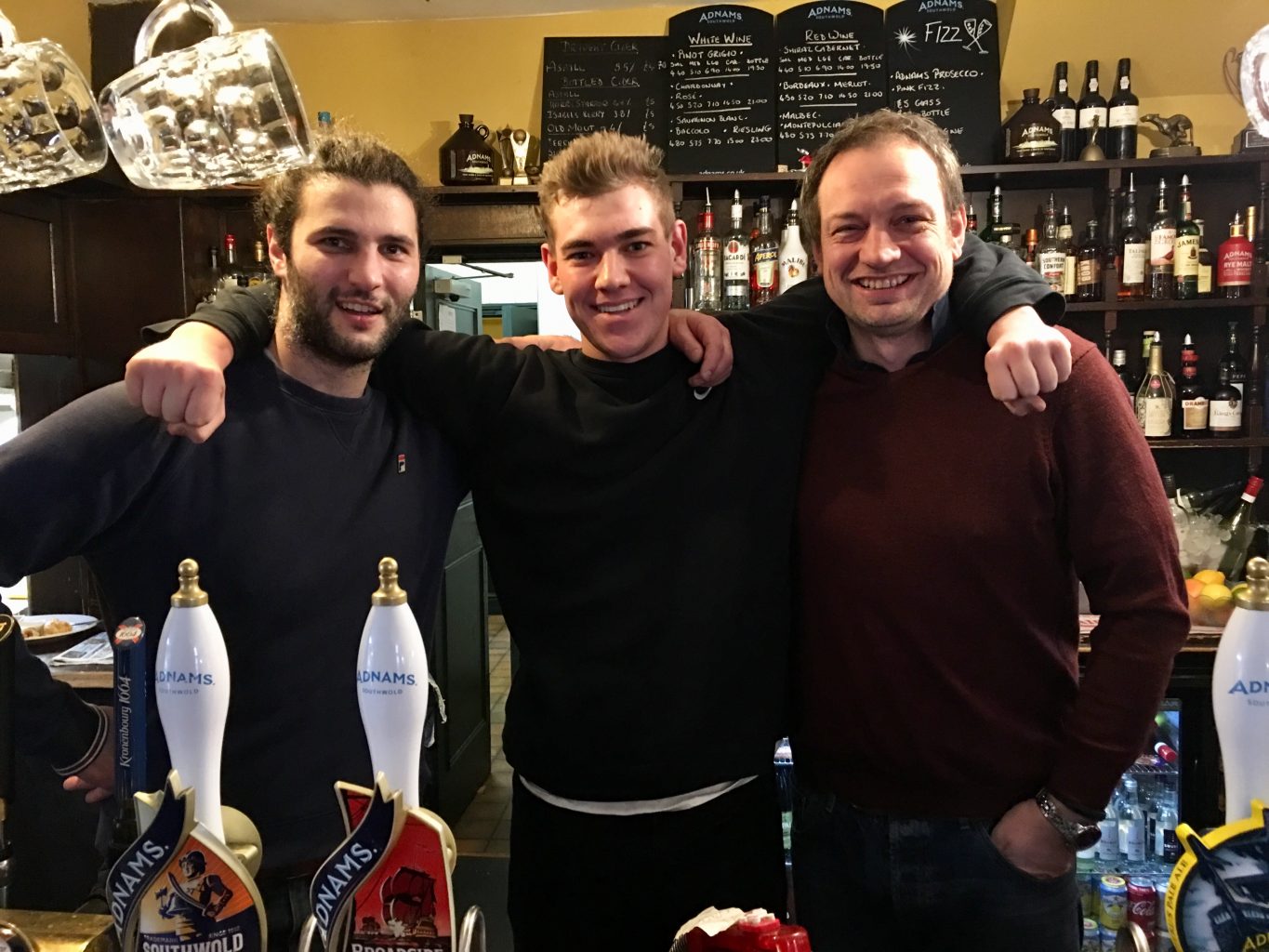 Ali, Max and landlord of the Greyhound Ipswich Dan Lightfood
Ann Osborn says, 'we now have 47 MeetUpMondays projects just like this one, happening weekly right across Suffolk. All the partners provide their support for nothing, what we do is provide the vital communicate and encouragement that is needed to help bring even more venues and attendees on board.'
To make a donation to the Surviving Winter Appeal, please visit www.suffolkcf.org.uk.
If you would like to have support from the Surviving Winter Appeal, you can contact Citizen's Advice on 01473 298 634.
If you want to learn more about MeetUpMondays, please visit http://ruralcoffeecaravan.org.uk/meetupmondays-home/.