Representatives from the voluntary sector, public sector, business and philanthropy gathered at the Museum of East Anglian Life this morning for the very first investiture of The Suffolk Medal. 
The medals were designed by Suffolk artist Maggi Hambling, are made in silver, and are in a specially crafted wooden display box. The highest honour that Suffolk can bestow on one of its own, has been awarded to Sally Fogden MBE from Honnington, Terry Hunt DL from Earl Soham and Richard Martineau from Walsham le Willows, from nominations from the public, and decided upon by a panel of the county's leaders.
The Suffolk Medal winners invited school children from their local primary schools, as well as family members and friends to the ceremony, and the awards were presented in front of a large audience of mayors from across the county, and representatives from the voluntary sector and business community.
The Suffolk Medal was the idea of George Vestey from Haverhill who was the High Sheriff of Suffolk in 2018-19, and they are administered by Suffolk Community Foundation and funded by private individual contributions to the fund they manage on behalf of The High Sheriff of Suffolk.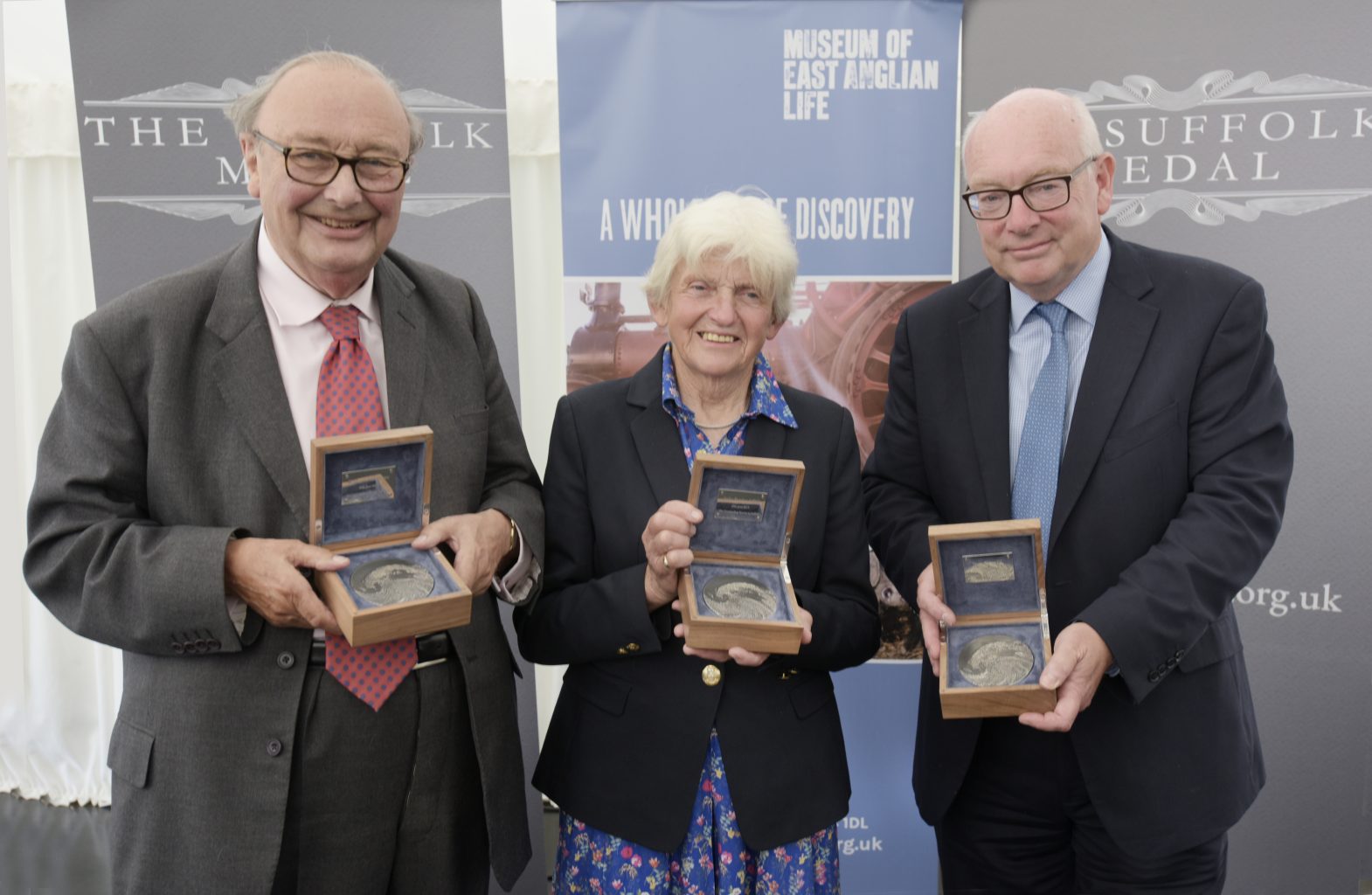 Whilst the serious business of the day was to recognise outstanding contributions to Suffolk life, the atmosphere was very much a 'family' celebration of Suffolk people – with a suitably celebratory tone courtesy of the beautiful venue and wonderful music from a string quartet echoing around the gardens. All were then called into the marquee for the ceremony, lead by the Lord Lieutenant Clare Countess of Euston, Lord Lieutenant of Suffolk, and Founder of The Suffolk Medal George Vestey. 
This year's winners have made their contribution to Suffolk in a variety of ways including outstanding leadership, ambassadorship, volunteering and philanthropy. The positive impact they have made has been particularly focused on issues including rural isolation, older people in crisis, mental health and well-being and the championing of a variety of aspects of business, cultural and local community life.
It's a beautiful medal and I am very pleased and surprised to receive it. I feel it's an honour for the various charities I work with, and it's for them as much as it is for me.
It's been a lovely event but there are many, many, more people who deserve medals more, particularly those working at the sharp end who need the help, and Sally Fogden is a perfect example of that with the Rural Coffee Caravan. I am less worthy than some others. 
I knew about the creation of the medal and thought it was jolly good idea but never, in a million years, did I think I would be one of the first recipients. I am quite overwhelmed but very pleased and honoured. It doesn't get any better than being honoured by your own county. The medal is wonderful and an important piece of art – now I have to decide where to display it!
It is intended that those honoured every year with the medal, will have their names recorded and their stories told in perpetuity, in an exciting interactive display at the new Suffolk Records Office – The Hold.
The judging panel meets at least once a year and nominations for future medals can be made directly online by any Suffolk resident via www.thesuffolkmedal.org.uk
Its purpose is to recognise, reward and champion the exceptional contributions of Suffolk people that have made a fundamental, measurable and lasting difference to the lives of people in our county.
A clear demonstration of outstanding volunteering, either as a single feat, an accumulation of personal impact over a period of time or, indeed, a lifetime of selfless service are key elements for consideration.