1000 tickets have been donated to local charities and those they support.  (Let's Rock – Saturday 10

th

 September)
UK Live, organisers of 'Let's Rock' have donated 1,000 tickets so that local charity and community groups and those they support can join in the celebrations for what promises to be a spectacular finale to Suffolk's amazing summer of Festival and Platinum Jubilee celebrations.
At the star-studded 'Let's Rock' party at Trinity Park on September 10th, to which everyone from across the county is invited, the donated tickets have been given to those who may not otherwise have had the opportunity to attend this star studded day long festival featuring 80's retro chart toppers Adam Ant, OMD, Nick Kershaw Heaven 17, Go West, Heather Small, Toyah, Sonia, Living In A Box, and many others.
Over 70 different charities and community groups will be attending include the Anglia Care Trust, The Bridge Project, based in Sudbury, Gainsborough Community Library and 29th Ipswich Guides, PACT (Parents and Carers Together) who work with young people with mental health issues, and Lowestoft and District Mencap.
The members we are bringing love music and none of them will ever have done anything like this before. It's going to be such an eye-opener for them and the whole experience of seeing all the live bands will be something for them to always remember. They all love music and we've had 1980's nights several times, as they really enjoy 80's music and know a lot of it.  We will be up, and dancing, and we will dress up – 80's style. We are very excited and can't wait.
The Festival of Suffolk was created to ensure that everyone has an opportunity to join in and it was so important that this continued from the outset right through to its spectacular concert finale to be held at Trinity Park this weekend. We are so grateful to UK Live Ltd and Suffolk Agricultural association for their generosity in supporting this special invitation to the community. Everyone is invited to come together for one huge final day of celebration at Let's Rock. Fabulous music, fireworks, a huge stage and spectacular lights, this family event will get everyone up, dancing, and singing along to some of the biggest names in 1980's pop and rock. 
The Festival of Suffolk included the Torch Relay which went to 250 communities and was greeted by over 100,000 people, and a Family Race Day at Newmarket Racecourse that raised money for local charities. A series of Business Expos inspired young people and connected them to local employers, 500,000 trees and hedgerow plants were planted or pledged as part of the Queens Green Canopy, thousands of people kicked off the Jubilee weekend at the Suffolk Show, and a Community Games encouraged participation in sport for young people and their families. The Festival of the Sea celebrated our maritime heritage on land and at sea, while Suffolk dogs and their owners had a great day out and raised money for local charities at Suffolk Dog Day. The New Suffolk Garland book, celebrating the county, was donated to every public library and secondary school in Suffolk.
Our team at Let's Rock are delighted to be bringing our spectacular 80's retro musical festival to Suffolk for the first time as the finale to your county's Platinum Jubilee and Festival of Suffolk celebrations. It's been wonderful to see just how many tens of thousands of people have joined in so far and we are really proud to have extended this free invitation to festival volunteers, over 70 local charities, community groups and families they support. We look forward to welcoming them all to Trinity Park and hope you all enjoy the most fabulous time.
We've been involved with the other Festival of Suffolk celebrations including when we took them to parade at the Suffolk Show.  This is like the finale of all the celebrations, and the girls are very excited! I don't think they have ever been to a Festival. They'll be able to tell their friends they've been there. It's going to be amazing for them.
There's such a nice range of stars appearing! As an organisation we've always got involved with the Festival of Suffolk and we think it is wonderful what has been done with the Festival all year. It's amazing what's been put on in a wonderful summer. Children in care are entitled to have an independent visitor one day a month and they go out to do an activity for them, which is normally around £15 a visit.  We were really pleased we got hold of some of the Let's Rock tickets as it's not really the sort of thing we would ever be able to offer because of funds. It's really exciting and we are so grateful. The teenagers will have a little bit of freedom and forget what is going on in their life.
We have decided to bring our management team with a few of our members who have been especially supportive during the past couple of years during the pandemic when our support changed overnight to being remote/online.  We think this will be a wonderful way of saying thank you for all of their hard work and dedication to Suffolk parents and we are extremely grateful to have been given these tickets for such a fantastic event.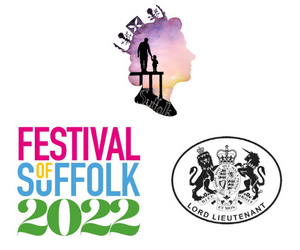 There has been a whole series of fantastic events and activities happening between May and October 2022. Some of these were unique to the Festival, some are the regular annual treats that we already know and love from around the county, and in our own local communities.
The Festival is a celebration of Suffolk during The Queen's Platinum Jubilee that brings all communities together in joyful celebration and creates a powerful legacy to increase the visibility of our county and improve local lives for many years to come.
Our legacy goal is the build a Festival Fund of £5m by 2025, to be given in grants to help charities, community groups and social enterprises working in these six areas: . Opportunity and Education, Health and Well-being, Community. Enterprise, the Environment and Culture and Tourism (These are the Festival themes).