Suffolk Show Grande Finale – Wednesday 1st June, 4pm The Grand Ring
The Festival of Suffolk Torch Relay arrives at Trinity Park to be welcomed by parachutists, a 500 people strong pageant, and marching bands. That will signal the start of an amazing spectacle – the largest assembly ever gathered together in Suffolk, with representatives from the county's youth organisations, military personal and emergency workers. 
4pm: 30 Royal British Legion Standards from branches across Suffolk, together with 54 Commonwealth flags carried in by children from Ipswich Schools will surround the perimeter of the Grand Ring.
 4.30 the Red Devils Parachute team will jump into the centre of the Ring, flying a huge Festival of Suffolk flag.
Over 350 young people will be taking part in the Pageant. 

The USAF Wings of Swing jazz band from

Ramstein Air Base, in Germany

and the RAF Honington Volunteer Band will play.

Pride of place at the pageant will be two charity rickshaws that have just completed a three week 550-mile journey around Suffolk, visiting 250 communities. Local nominated heroes carried the Torch, greeted by thousands of spectators.  

The Festival of Suffolk Torch will then arrive held aloft by Jake Nichols, world motorcross champion. Jake's father, local businessman, Guy Nicholls' company Tru-7, are the main sponsors of this summer's Festival of Suffolk.

200 military personnel from the armed services that are associated with Suffolk, led by 28 Regiment Royal Engineers together with RAF personnel based at Honington, HMS Vengeance, the submarine twinned with Suffolk, the US Air Force Honour Guard and the RAF Honington Band. 

Fire, Ambulance, Police representatives and HM Coastguard, the RNLI and other voluntary rescue services and over 350 young people and volunteers from the uniformed cadets, scouts, guides and members of non-uniformed Suffolk youth groups, will be in the procession.

Nominations for the voluntary sectors highest honour – The Queen's Award for Voluntary Service 2022, BSC Multicultural Services, Bury St Edmunds Rickshaw, Friends of the Ferns, Halesworth Volunteer Centre and Suffolk Lowland Search and Rescue have also been invited to join the parade.

Taking up the rear, will be fifteen of the Suffolk Show stewards, the men wearing their distinctive traditional bowler hats. 

Everyone taking part in the Pageant will receive a special Jubilee coin, as a memento of the occasion.

Her Majesty's Lord Lieutenant for Suffolk, Clare Countess of Euston will take the salute, the Bishop will say a prayer and give a blessing and Felixstowe soprano, Christina Johnston, will then sing the National Anthem. 

The whole procession will then leave the Grand Ring, passing the saluting dais, at around 5pm.
Taking part in the Pageant:
28 Engineer Regiment – lead Regiment and Parade Commander
RAF Honington/RAF Regiment
RAF Honington Volunteer Band
HMS Vengeance 
USAFE 'Wings of Swing' marching jazz band.
USAF marching contingent from RAFs Lakenheath and Mildenhall
Royal British Legion Standards x 30
Plus around another 300 participants:
Cadets from Suffolk ACF, RAF Air Cadets, Sea Cadet Corps, St John Ambulance badgers and cadets, Police Cadets, Fire Service cadets and representatives from many youth organisations including Fairview Farm, the Green Light Trust, Home Start, Inspire Suffolk, Just 42, The Porch Project, Volunteering Matters, Student Life, Suffolk Family Carers, Youth Justice, Karibu, Phoebe, The Youth Parliament, and the Gainsborough Community Library. 
'Blue light' services – Police Service, Fire Service, Ambulance Service; HM  Coastguard, RNLI, and other rescues services, (e.g. SARS)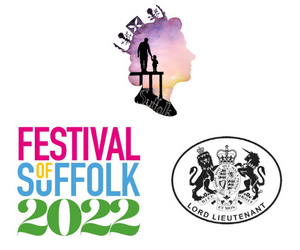 There is a whole series of fantastic events and activities happening between May and October 2022. Some of these are unique to the Festival, some are the regular annual treats that we already know and love from around the county, and in our own local communities. The Festival is a celebration of Suffolk during The Queen's Platinum Jubilee that brings all communities together in joyful celebration and creates a powerful legacy to increase the visibility of our county and improve local lives for many years to come.
Our legacy goal is the build a Festival Fund of £5m by 2025, to be given in grants to help charities, community groups and social enterprises working in these six areas: . Opportunity and Education, Health and Well-being, Community. Enterprise, the Environment and Culture and Tourism (These are the Festival themes).
For further details of the Festival of Suffolk please contact:
[email protected] 07711362864
or [email protected] 07940187886