The final design of the torch that will make a 550 mile round trip across Suffolk around the county has been revealed! Celebrating all the county has to offer, the Festival of Suffolk will bring the torch to 250 towns and villages. The torch will leave from Brandon on May 13th, and will finish at the Suffolk Show in Ipswich on June 1st.
The torch symbolises a bright future for Suffolk and has been manufactured using high-tech design and production methods, including 3D print with ultra-lightweight carbon fibre. The design also references the 70 year reign of Queen Elizabeth, with 70 holes upon the torch. 17 on two sides, and 18 on the others, and the two extra missing holes are a lovely spot where the Festival of Suffolk logo is placed on one side, and the lovely symbol of the Festival, designed by Joe Barnes, on the other.
The torch was designed and produced by Brafe engineering's CEO Andrew Dalby.
I was sent a lot of images of past Olympic Torches, but I thought this isn't what we are really about in Suffolk. I sat down on my tea break, thinking I would like it square, with something on the end so it doesn't fly off when you hold it,  and also truncated so it doesn't slide up and down. After I sketched it, Chris Pritchard in the Brafe Engineering machine shop put it into a digital form and came back and said it would weigh 13 kilograms. That was a problem as some people would not be able to carry that weight very far. Then, we thought that we could 3D print this in a lightweight composite, to ensure it could be transported smoothly through Suffolk.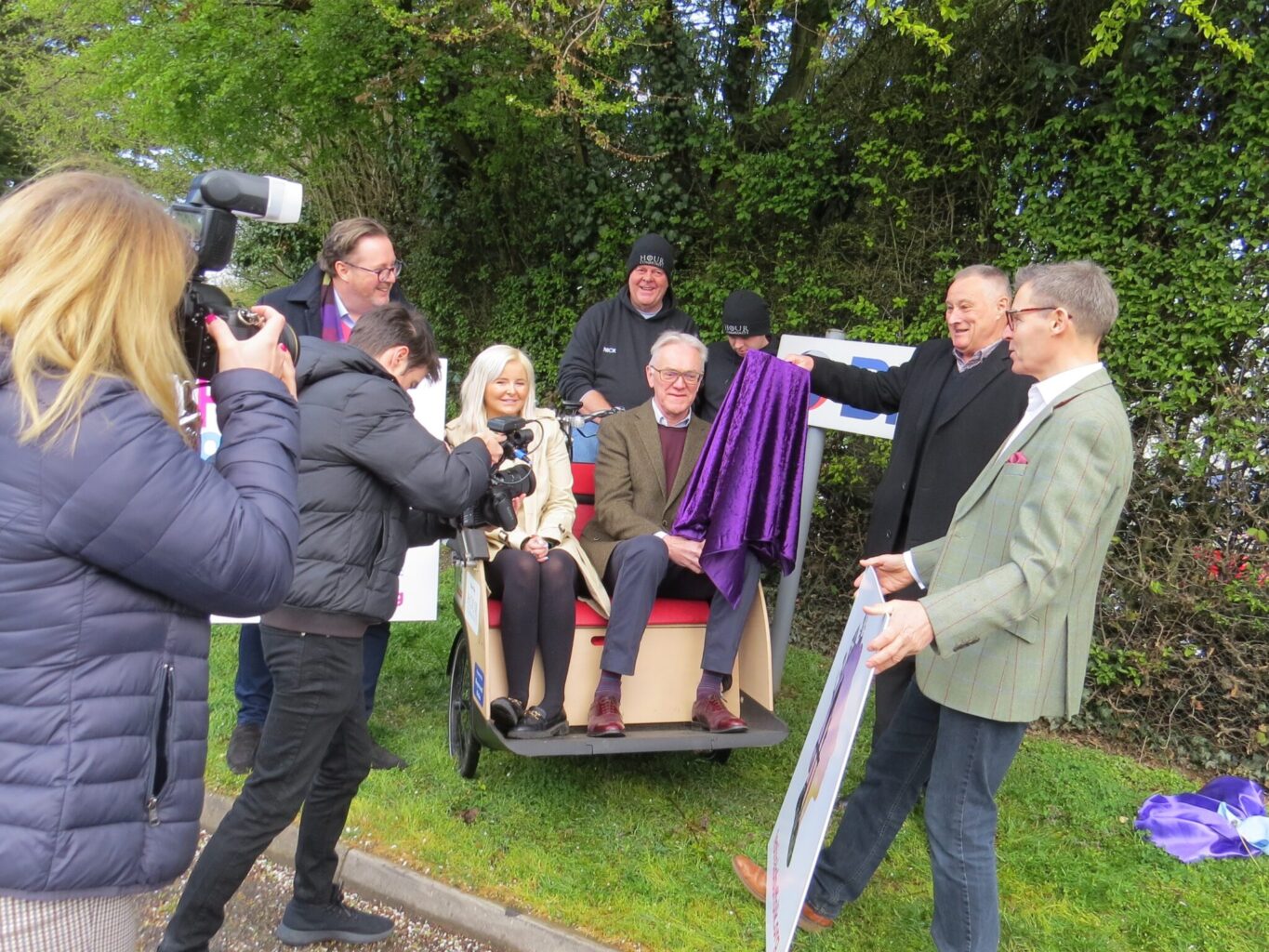 We were joined by East Anglian Daily Times, MP Therese Coffey, along with the organiser of the Torch Relay, Mark Brennan.
We were very conscious that, in the current climate, everyone is concerned about the environment, we were keen that the entire project would leave a very low carbon footprint. Someone offered a truck to carry the torch around Suffolk, but we knew that wouldn't be appropriate, so we went for the rickshaws.
A massive thank you to everyone who has already nominated a local hero to carry this special torch, in honour of Her Majesty the Queen's Platinum Jubilee, and to launch the Festival of Suffolk 2022. We will be in touch with those who have been nominated, and there is still time to nominate! To find out the Torch route day by day and more details, visit Festival of Suffolk website. We hope you will come out onto the streets, clap and support our wonderful Torch bearers. Get involved, it will be a fantastic two weeks!
There is a whole series of fantastic events and activities happening between May and October 2022. Some of these are unique to the Festival, some are the regular annual treats that we already know and love from around the county, and in our own local communities. The Festival is a celebration of Suffolk during The Queen's Platinum Jubilee that brings all communities together in joyful celebration and creates a powerful legacy to increase the visibility of our county and improve local lives for many years to come.
Our legacy goal is the build a Festival Fund of £5m by 2025, to be given in grants to help charities, community groups and social enterprises working in these six areas: . Opportunity and Education, Health and Well-being, Community. Enterprise, the Environment and Culture and Tourism (These are the Festival themes).