Meet our Trustees
Community Foundations exist to fulfil their charitable purposes. Trustees have a responsibility to understand the environment in which the Foundation is operating and to lead them in fulfilling its purposes as effectively as possible with the resources available. The board of trustees core role is a focus on strategy, performance and assurance. Our trustees are a vital part of our mission and continue to help us through our objectives and goals.
GEORGE VESTEY DL - CHAIR OF TRUSTEES
George has been chair of Suffolk Community Foundation since November 2019. During his year as High Sheriff of Suffolk in 2018 he gained a thorough insight into the voluntary sector and the role of the Community Foundation in supporting voluntary and community organisations. He was inspired by what he saw and is delighted to be able to support that effort as a trustee. George is CEO of his family food business, Vestey Holdings Ltd, and lives in West Suffolk.
Jonathan Agar
Jonathan has been Chief Executive of Birketts, a law firm based in Ipswich and also with offices in Cambridge, Chelmsford, Norwich and London, since 2013.
Prior to this he was in the army for six years and then spent 15 years working in London for a number of city companies before he returned to Suffolk, where he was brought up.
Jonathan has been a trustee of the Foundation since 2014 and a governor of The Royal Hospital School since 2015 where he chairs the Finance Committee.
As a Deputy Lieutenant Jonathan plays an active role in the Lieutenancy Business and Enterprise Group that promotes the Queen's Award for Enterprise in recognising business excellence across the county. He is also engaged in seeking to reduce social isolation and rural deprivation in Suffolk. Jonathan represents the Lord-Lieutenant on the Shotley Peninsular where he lives with his wife Fenella and three teenage daughters.
Sue Gull
Sue joined Scrutton Bland as a partner in February 2001 and jointly heads our Corporate Services practice in Ipswich, serving many of our larger clients, from substantial privately-owned businesses to subsidiaries of international companies. As well as audit and accountancy services, she has experience in advising shareholders on a broad range of issues, including valuations and group structures.
Sue has a particular interest in family and owner managed businesses as well as the construction industry, which has many specific tax and accounting issues.
As a trustee of the Suffolk Community Foundation, Sue is also a passionate advocate of the need for the private, public and charitable sectors to collaborate on initiatives to benefit our local communities.  Other than that, outside work much of Sue's time is taken up with all things animal, with a particular love of dogs, pigs and turkeys!
Jordan Holder
As the Operational Careers Hub Lead at New Anglia Local Enterprise Partnership (LEP), Jordan is responsible for delivering the Careers Hub strategy for all Schools & Colleges in Suffolk. He is passionate about ensuring all young people are prepared and inspired for the world of work and is committed to tackling social mobility across the county. Alongside his role at the LEP and Trustee position at the Foundation, he is also a Governor at Copleston High School and the Chairman of Men's Mental Health Charity, MANUP.
Anna Hughes
Anna has lived and worked in Suffolk for over 20 years, having started working life in London where she qualified as a Chartered Accountant. Her first Suffolk role was Finance Director for Ipswich Town Football Club, going on to be FD and then CEO at Suffolk Mind.
Most recently she worked for the Bishop, running a charity that supports the work of the Church of England in the county.
Anna has a particular interest in mental health, inspired by the people she worked with and met through her time at Suffolk Mind. She is now a trustee of Mind, the national organisation, for which she chairs the Finance, Risk and Audit Committee and its grants panel.
She knows how fundamentally valuable the not-for-profit sector is to Suffolk's well-being and believes that the Foundation has an ongoing, vital contribution to supporting and showcasing its long-term benefits.
William Kendall
William read law at Cambridge University and completed an MBA at INSEAD in Fontainebleau. Over nine years he built up The New Covent Garden Soup Company before selling it to a public company. He and several colleagues then bought the embryonic Green & Black's from its founder and grew it to an international brand which they sold to Cadburys in 2005.
He is advisor to or director of many organisations, including Cawston Press, Samworth Brothers, and Keystone. He is a Trustee of The Grosvenor Estate and director of Wheatsheaf, which concentrates on agri-tech opportunities. He is also a Trustee of Gascoigne Cecil Estates and Snape Maltings.
William farms organically and conventionally in East Anglia. He is an active environmentalist and a campaigner for better food and rural issues.  He is President of The Suffolk Wildlife Trust. He was High Sheriff of Suffolk in 2016-17 and maintains links with many NGOs and volunteering organisations within the county.
Jane Millar
As an NHS manager, Jane specialised in working in and with mental health services and services for families and children. A spell working as an NHS commissioner broadened her experience. A desire to work more directly with individuals and families led Jane to re-train and work in the VCSE sector. Until recently Jane was a Director (Co-opted) of Healthwatch Suffolk.
Jane's career and life experiences have led her to a deep appreciation of the invaluable contribution of the VCSE to the wellbeing of local communities.
Peter Newnham
Peter joined the Board in May 2013; following a career with Shell UK and Shell International, mainly in Business & People Development, he became a self employed consultant working with a variety of commercial international businesses providing support through the development of people following mergers and acquisitions.
Peter is now retired and has a particular interest in being part of a charity that directly supports the people of Suffolk, where it is possible to see and feel the extraordinary difference that charitable giving, both private and public, can make to the lives of givers and receivers alike.
Neil Walmsley
Neil became a partner of Grenne and Greene Solicitors in 1996 and is now a director of Neil Walmsley Limited, one of their corporate partners.
Beyond his extensive experience of corporate and commercial law Neil is passionate about competitive horse power, both motorised and equestrian. 
Neil was also the Under Sheriff of Suffolk for a number of years, before passing on the baton to Jonathan Mathers in 2019.
Terry Ward
Terry has been a Trustee since 2013. He previously held senior positions for Suffolk Social Services, Suffolk Health Authority and was a Director of Ipswich PCT. He also ran his own consultancy.
Throughout his career he worked closely with many local community and voluntary organisations.
He currently chairs the Grants and Community Impact Committee.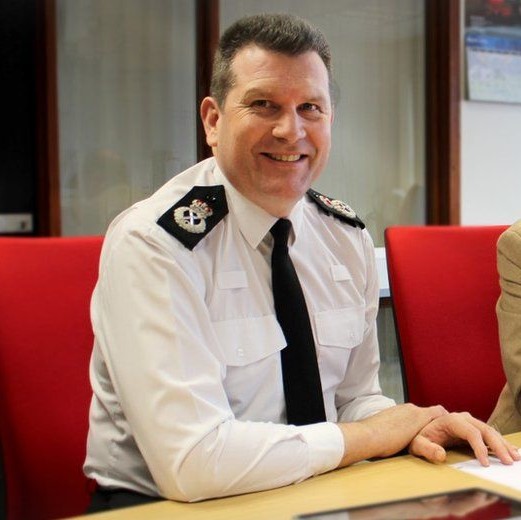 Gareth Wilson
Gareth served 33 years as a police officer, retiring as the Chief Constable of Suffolk in 2019.
During the earlier part of his career in Essex, Gareth specialised in homicide, major crime and serious and organised crime investigation, leading many high-profile cases.  He then moved to Norfolk as a chief officer taking charge of local policing and Royalty protection. 
He moved to Suffolk in 2014 as the Deputy before becoming Chief Constable. During his tenure in the chief officer ranks, Gareth was the national policing lead for Diversity, Equality and Inclusion and also for Crime Investigations and Homicide.
Following retirement from Home Office policing, Gareth was appointed as a senior civil servant and joined the Ministry of Defence Police as their Chief Operating Officer. He is also a lay member of the University of Suffolk Research Ethics Committee. Gareth has a first and master's degree from the University of Essex and Post Graduate qualifications from the Cambridge University and the University of Leeds.
Gareth was awarded the Queens Police Medal in the 2020 New Year's Honours List and was appointed as a Deputy Lieutenant of Suffolk in February 2020.
Sarah Zins
Sarah has a law degree and worked in loan finance with law firms Norton Rose and Slaughter and May before moving to Abbey National, where she worked in the Treasury section, ran call centres and latterly headed up their Corporate Development department.
She is now Deputy Chairman of Britten Pears Arts and a Citizen's Advice Bureau volunteer.
The community foundation is more than giving out a few grants, we're about tackling deep inequality across the county and working with partners, community groups and other charities to ensure everyone is given the same opportunities in the county. That's the reason I joined as a Trustee and am so proud of the impact our team makes. 
It is an honour to be a trustee of the Suffolk Community Foundation and one of the most satisfying aspects of the work is convening partnership across all sectors to resolve the most deep-rooted problems in the county"
Being able to support local communities and voluntary organisations means they can help improve the lives of those in need.